A Skincare Ritual: Slow Beauty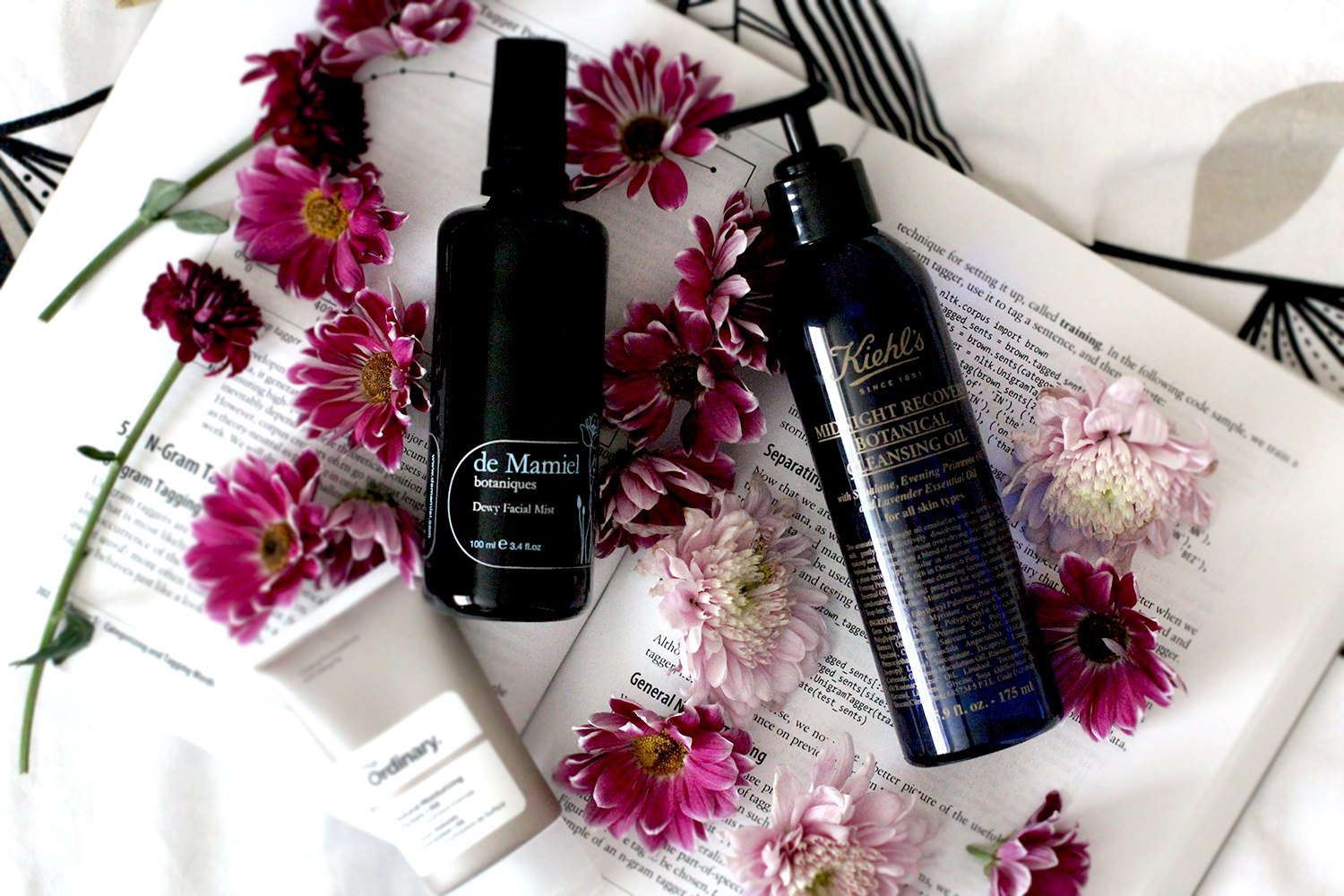 Taking moments of calm, embracing the present; the steam rising from your morning tea, tuning into that birdsong, watching the pigeons not so gracefully try and make a nest in your hedge. These are daily slow living practices for me. Pockets of time to pull away from the stress and hustle and bustle of worries and work and relationships. I've always seen my skincare routine as somewhat of a relaxing ritual. It only occurred to me a few months ago that the art of slow living applies just as much here too.
Face mists are one of my favourite skincare products to own. I go through bottles of this stuff every year, always trying something new and wanting that relaxing scent and refreshing pick me up. This beautifully scented dewy mist from De Mamiel is nothing short of skincare luxury. The glossy black bottle, finely spritzed mist and concoction of herbal extracts, essential oils and rosewater. It also includes bamboo water, peony extract and prebiotics - highlighting a few of the interesting ingredients there. I couldn't tell you how many times a day I stop for a moment to spritz this. A desk essential for sure.
Cleansing oils are my top pick when it comes to slow beauty. The time spent massaging a mixture of essential oils, with all of those calming scents, into the skin is time well spent. It always helps relax the muscles in my face and relieve some of that jaw tension. The new Kiehl's Midnight Cleansing Oil is my current favourite. A very light, smooth oil that smells just like the popular concentrate. It breaks down makeup well (eye makeup too) but I also like it as a second cleanse.
Tapping product into my skin, using my fingertips, is something I've picked up from watching many a Korean beauty routine video. It feels lighter, not like I'm dragging my skin when applying product. It also allows me to avoid using too much product and the end result is that my skin always looks hydrated and plumped. My evening skincare routine has literally become a series of tapping motions and I'm convinced it's also stimulating circulation in my face. Have I found any real evidence that this does something? No. But it feels nice and works for me. Give it a try, it's quite relaxing.
After cleansing, I'll tap in some of the Caudalie VinoPerfect Brightening Essence*. This stuff is the dream. Inspired by Asian skincare, they have created a beautifully lightweight formulation. It smells light, herbal and natural. Not too far off the consistency of water and a little goes a long way. The bottle you get is huge compared to other essences I've purchased. It will last you a long time. I definitely find this to be more of a balancing essence than something rich and nourishing. It's perfect to use in the morning too as a skin prep and it's refreshing. My skin always looks perked up and a little more glowy after using this. It doesn't work with the 7 skin layer method which is why I'm convinced this is a better balance and prep essence than fifty layers of nourishment.
Glycolic acid, white peony and grape water - this essence is a botanical dream. It's aimed at reducing dark spots but if you're someone with acne scarring I'd highly recommend trying this too. In conjunction with the next two steps, it makes for a killer complexion boosting and skin tone evening team.
Next up is the Vinoperfect Radiance Serum* which I reviewed last year (you can read that here). In short, I still love this serum and its lightweight, milky consistency. Caudalie have always been good at formulating wonderful textures. The final layer is three drops of the VineActiv Detox Oil* which has been a staple in my evening routine since the day I got my hands on it. You can read my full review here.
Streamlining my skincare routine and focusing on a few brilliant products that work has allowed me to:
Focus on the ritual and the process. Slowing down and thinking about the consistencies and the scents and how it feels on my skin. A few minutes of calm a day.

Let my skin "breathe". Not hitting it with layers of skincare it doesn't need. I can happily say that my skin texture has improved greatly and blemishes have been few and far between.
I'm not much of a bath or pamper routine person so taking these few minutes a day to indulge in my skincare routine is the kind of slow beauty that suits me. Perhaps yours is a bath concocted of oils and salts, painting your nails, lying still whilst a face mask works its magic or soaking your feet in a bowl of epsom salts, essential oils and a few rose petals scattered for good measure.
*PR samples // product links in this blog post are affiliate links (see disclaimer in footer for full explanation)
If you enjoyed this post I'd really appreciate it if you could please share or give it a like on Bloglovin'. Thank you! <3
Follow